I think Home Depot's carpet subcontractor decided they needed to make it up to me, because they sent two great young guys who did a fantastic job on the carpet. I'm posting this picture mostly for the Girlchild's benefit, because the rest of you don't know what my carpet looked like. The new carpet is almost exactly the same color as the old carpet, minus 8+ years of wear and stains, and in a much higher quality and stain-resistance:
Yeah, it's beige. Yawn. I'm sorry, I'm a real estate wonk and a corporate type, I think resale. No matter how much you love pink or teal, don't use it on the flooring. Paint the walls, upholster the chairs, knock yourself out, but not on the floors. Please.
Maybe I should have a contest - how many days until the first cat yack hits the new carpet?
While the nice young men were toiling away, I finished a pair of socks that has been languishing for, oh, I don't know, two years?
The yarn is Stahl Socka Cotton Color, a wool-cotton blend, and I rate it "Eh." Despite being 1/3 wool it has little bounce and they're not particularly soft. However, they do fit my short wide feet quite nicely: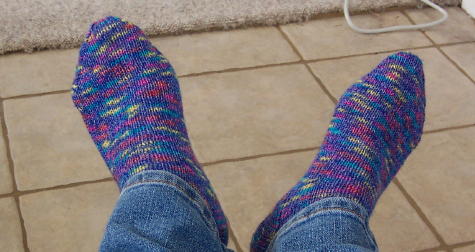 Handknit socks are among my favorite things, because I have short, wide feet. I am not very short or wide, I'm 5'5" and a size 10, but I have duck feet, size 6.5 Wide, to be precise. (I can fake my way into certain 7 mediums, thank God - 6.5 W is not a fashionable footwear size. "Very Sensible," that's how to describe the usual selection.) A commercially made not very stretchy pair of socks like these would be long enough in the foot to annoy me. I can make my socks to fit my stumpy little feet.
And it's a damn good thing I have such stumpy little feet, because here's how much yarn was left from that skein after I Kitchenered the toe of sock two: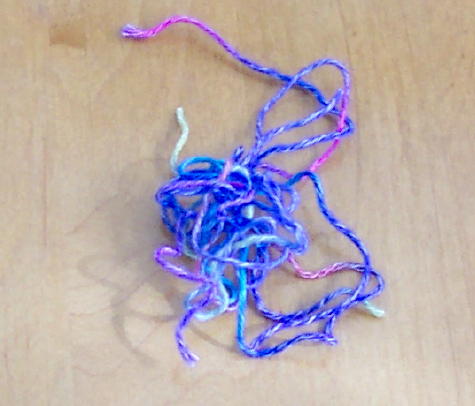 Talk about taking it down to the wire, I'm knitting the toe decreases and watching the yarn dwindle to this little crumpled wad...I've never cut it that close before.
Oh, the Plan. The opening of Knit! has caused me both joy and pain - joy is obvious, a quality yarn shop 10 minutes from my house, hell, I could ride my bike there! Pain - I swore I was not going to buy yarn until I seriously depleted the existing stash, and I really do need to focus on stash reduction. I also need to focus on exercise and diet and ass reduction. So, while I was putting things away in the freshly carpeted back bedrooms, a Plan was born: 25 Projects and 25 Pounds in 2005. I don't really need to lose the full 25, but 25 and 15 doesn't have the same ring to it, and hey, if I manage to lose 25, baby, I'll be in a teeny bikini and looking damn good in it! That would be high school weight. It could happen.
So far I'm down 2.5 pounds and a pair of socks. I'm going to set up some sort of really lame (because I'm HTML-ignorant) sidebar tracker, and we'll see how this works out. I want to shop at Knit! like, next weekend, but I can't just keep flinging more yarn into the stash without significant output. Yep, this could work.