Taking pictures of the star of the blog is very frustrating. He has an unerring ability to look away JUST as the flash goes off. And dummy me, I thought this was just a fluke - that repeated itself over and over.
Uh, no, it appears the dog has figured out the shutter delay on the camera, and knows to look away at the click.
Because today I tricked him, I talked to him and distracted him and got him to look right into the camera
And right after that picture was snapped, he buried his little head in his paws. I felt SO awful for tricking him, and promised that from now on, Mommy will only take his picture in the yard, without flash.
And I would have made my bed today, but Miss Roadkill was just too comfortable: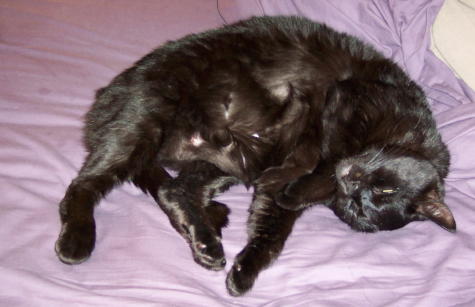 I'm glad her mommy will be home by May 1 and she can shift her ass to HER bed. I already have her littermate Boris the Purring Blob as a nightly companion.
I did not rip the Koigu sock on two circs. I took it out of the bag fully intending to frog it, but looked at 4+ inches of ribbing and admired the colors and texture, and just didn't want to, so I'll finish this pair on circs. I watched movies on this long rainy day and turned the heel on the sock. I was a bit confused by the gusset portion of the pattern, but that's just because I read it wrong. It does work as written, if one can read. I am not particularly fond of the two circs method, but I was afraid that if I changed to dpns I'd have a gauge change, since I seem to be knitting tighter on two circs (go figure). I'll finish this pair on two circs, because I can see the times when this technique would be useful, like for travel knitting. As someone who has done socks on 5 dpns damn near everywhere, I have to admit that the wad it up and stuff it in a bag factor is not to be dismissed lightly for me. I have fished size 1 dpns from the bottom of every bag I own AND from under/inside furniture. I will keep the circs thang in my knitting arsenal. But I love my double points and see no reason to give them up.
And tomorrow is Monday. And I'm now focusing my energies on figuring out how to get to Maryland Sheep and Wool. I want to drive because my previous excursions to places like the KR retreat seriously impeded my shopping freedom. I may want to come home with a
baby alpaca
tabletop loom, yeah, that's it, something loom-sized, not something alive. We're already pretty commmitted to adding a pug to the zoo here, I think the HOA will not notice a pug, but an alpaca could be an issue.